Punk Ok After Miz Botch, Rosey On Brother Roman Reigns, Undertaker At Raw? JR Remembers Mr Perfect
CM takes nasty bump at house show:
CM Punk took a nasty bump to the head during his match with the Miz at the Springfield, Missouri, house show over the weekend. Miz was executing a stalling suplex, but it ended up being an impromptu Brainbuster.
After the incident Punk immediately rolled out of the ring and was checked by trainers, but managed to pull himself together a few minutes later. It's not believed to be anything serious and Punk will be at tonight's Raw.
_____________________________________________________________
Former WWE Tag Champ Rosey discusses his brother Roman Reigns:
Former WWE talent Matt Anoa'i, who worked as Rosey from 2002 – 2006, discussed his brother Roman Reigns getting a shot on the main roster. He told Wrestling101.com "I'm very proud of him and I've been getting a lot of positive feedback from people telling me how great he is doing, it's always fun when you can see your immediate family on TV again," says Rosey.
"Although I've been doing it my whole life this was kind of special to me because he's a good kid, he got a raw deal when it came to the NFL and I'm certainly glad that Vince is the way he is when it comes to seeing what someone's got.
"I think he is going to go a long way, I think he's got tremendous talent and it's great seeing him mixing it with a lot of the top talent in the WWE already and legends such as Ric Flair and Mick Foley, he's going to make a real career out of it. Everybody is just hoping and praying that he does great and he is able to stay injury free and just hope that he has a good ride, it's a fun thing to do."
Rosey also discussed teaming with his cousin Eddie Fatu (Jamal / Umaga):
"That was fun because there was a better confidence, when Jamal and I tagged there was a better sense of understanding in the ring, we were more experienced and had some more years under our belt after going to Japan etc. and getting a taste of the world before going back to the WWE.
"There is nothing like the WWE, it is the funnest thing on the planet it's thousands of wrestlers dreams to be able to walk out in front of WWE cameras so it was definitely a privilege and it was definitely fun."
Teaming with Shane Helms (The Hurricane) and winning the WWE tag team titles:
"It was fun to do that because it was subtle change (laughs) from what I'd done throughout my whole career. We're in the entertainment business and if you can't adjust or adapt to something you're not in the right place, the worst thing that I could have done is not try.
"It was something different and I did get excited about it, I wasn't too pleased with the outfit or at least the super hero in training outfit but sometimes your do something and try to make it work, if they throw us a curve ball we try and hit a home run with it. When we won the Tag Team titles that was an exciting feeling, although it wasn't with a family member like it should have been, I was more than happy to win those belts with Shane, he's an awesome person and to this day one of my great friends."
Highlights from his time with WWE:
"The table's match against the Hardy Boyz and Spike and Bubba Dudley was great, I really enjoyed working our first PPV match against Booker T and Goldust. I thought it was pretty fun chasing that midget around Las Vegas on Monday Night Raw, there's so many highlights I could probably go on for an hour talking about it but for the most part getting to wrestle against top names, working with Triple H, Kane, RVD the list just goes on and on."
What Vince McMahon was like as a boss:
"He was great, I've known Vince since I was 5-years-old. I've never really been on his bad side except for maybe once or twice but for the most part he's a very understanding person, don't come to him with excuses come to him with solutions.
"Speak your mind to him just like he would do to you, and I think he respects you a little bit more, if you're going to talk back to the boss you better believe in what you're saying because he will sniff out a bulls–tter in a heartbeat."
_____________________________________________________________
The Undertaker spotted in Nashville:
The Undertaker was in attendance at last night's Nashville Predators NHL game. Nashville is the site of tonight's Raw, suggesting the Deadman may be returning for the build to Wrestlemania.
"Just shook hands with The Undertaker at the Preds game," Tweeted @JonBurton32.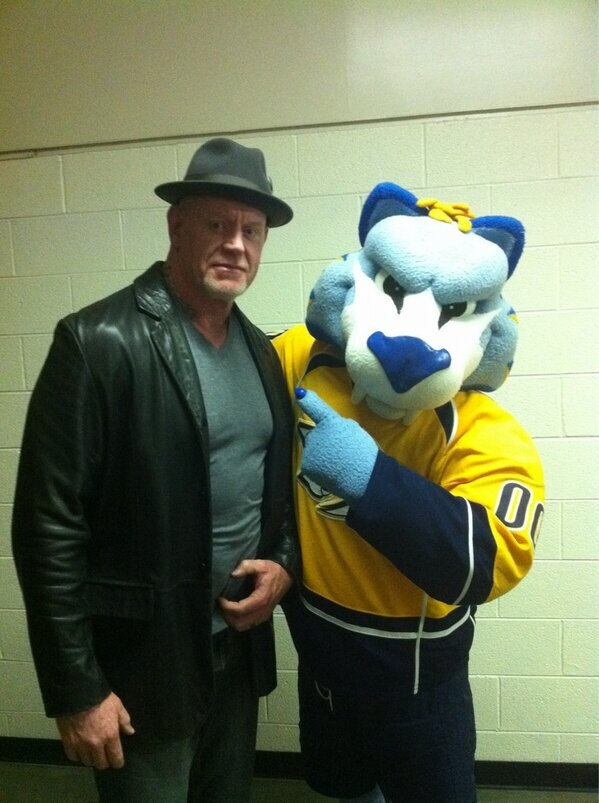 The original plan for Wrestlemania was to have Undertaker vs CM Punk, but due to undisclosed reasons the decision has yet to be made weather Taker will actually be able to return. This sighting may be a hint that the plans will go ahead.
_____________________________________________________________
JR's latest blog:
Jim Ross remembered the late great "Mr Perfect" Curt Hennig in his latest JRSBARBQ.com blog.
"Can't help but think about Curt Hennig aka Mr. Perfect today on the anniversary of his untimely passing. "Perfecto' was as good a natural athlete as I've ever been around in the wrestling biz," writes the veteran announcer.
"Curt starting so young and wrestling so much likely contributed to his lingering back injuries as back ailments are horrific for any performer in the sports entertainment biz. Curt was also one of the funniest guys that I ever worked with on commentary and had legit, natural timing much like a guy he watched while growing up, Bobby 'The Brain' Heenan.
"Curt truly loved life and some could argue that he loved it a little too much at times. Nonetheless I value the relationship that we had and the fun doing WWE voice overs at the Stamford, Ct studios back in the day. Chief Jay Strongbow nicknamed Curt "Dennis the Menace" because of his mischievous demeanor at times.
Curt was one of my favorite wrestlers and when he was healthy he could hang with anyone. I am optimistic that his son Joe also know as Michael McGillicutty will be a main event level talent before all is said and done. I've seen Joe wrestle a great deal especially down in NXT and he has every thing he needs to be special. It's all about timing and right place at the right time but I'm confident that Joe will persevere and get to the next level and it could happen in 2013. I'd be surprised if it doesn't."
Category: Wrestling News | Tags: CM Punk, The Miz