IC Title Cup Axed, Impact Leaving Orlando? Edge Endorses Indy Star
WWE drops IC title cup idea:
According to Wade Barrett WWE have dropped the idea of running an "Intercontinental Title Cup" tournament for a few weeks on Main Event. Wade Barrett announced the plans last week, but he said it was canceled today on Twitter:
"I am pleased to announce that I have managed to negotiate a complete cancellation of the Intercontinental Cup tournament. I think you'll all agree that this is fantastic news. Warm regards, Your Intercontinental Champion."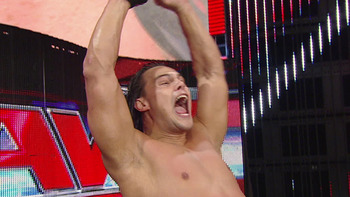 [It's a shame because it seemed like a fresh idea. If they're looking to get Bo Dallas over they could have allowed him to get the victory, furthering his program with Barrett].
___________________________________________________________
TNA taking Impact on the road:
The "huge announcement" TNA President Dixie Carter alluded to during an interview with The American magazine is expected to be that TNA are taking Impact out of Orlando and on the road.
"Taking the show on the road is the natural next step for us," she said in the interview. "It's expensive touring and it's not that I haven't wanted to be on the road but it's a business decision just like losing the PPVs."
She reiterated the announcement today on Twitter, writing:
"I will be making a major announcement on IMPACT tomorrow (8/7c) This will change everything for our wrestlers, company & YOU our audience!"
[This is a positive step for TNA for a number of reasons, not least because touring the country gives creative a better idea of how gimmicks and storylines are getting over, rather than the bubble they've created at the Impact Zone in Orlando; where on one hand you get tourists who know nothing about wrestling, and then hardcore TNA fans that chant 'this is awesome' for everything. All that being said, TNA's live event attendance in the US is pretty appalling, so they'll have to do their best to ensure the set and cameras don't expose their small stature.]
___________________________________________________________
Edge endorses Indy star's Japanese career:
WWE Hall of Famer Edge has given his endorsement to Indy star Steven Walters, who is headed to Japan for a tour of Zero-One. Walters was given a "scholarship" from wrestling t-shirt website BumpDrunk.com which is owned by former NWA champion "The Sheik" Joseph Cabibbo (not to be confused with the more famous Sheiks), who also works for the Zero-One promotion.
"Steven is the first and most likely only guy outside of WWE who I've kind of taken under my wing," says Edge.
"If I didn't think he was a great kid with a great attitude I wouldn't have anything to do with him."
A press release on the website reads:
Walters' attitude and work ethic earned him a WWE tryout, but also caught the eye of WWE Superstar and professional wrestling legend William Regal, who personally offered him a spot on a three-month tour of England.
Now, as the first winner of Bumpdrunk.com's SHOGUN scholarship, Walters will be adding to his already impressive resume by training and learning through intense competition with such Japanese legends as former Zero-1 and Extreme Championship Wrestling world champion Masato Tanaka, former Zero-1, World Championship Wrestling Cruiserweight, and World Wrestling Federation Light Heavyweight Champion Shinjiro Otani, former Zero-1-MAX International Junior Heavyweight Champion Ikuto Hidaka, former NWA Worlds Heavyweight and Zero-1 Worlds Heavyweight Champion The Almighty Sheik, and current Zero-1 Worlds Heavyweight Champion Akebono.
"I think it's great for companies like BumpDrunk to invest in guys like Steven," Edge said of his protégé. "They're the future of the business. Without them, there is no business. I hope Zero-1 is prepared to have their door blown off the hinges."
Category: Wrestling News |