Jericho Signs New WWE Contract, Brock Lesnar Also Re-Signs, Off Air Rumble News, Raw Preview
Chris Jericho signs new WWE contract:
Chris Jericho who made a surprise return in last night's Royal Rumble match, has signed a short-term WWE contract keeping him with the company until Wrestlemania.
WWE kept Y2J's return secret by hiding him within a tour bus outside the arena until the very last minute.
For those that missed the show Jericho entered number 2 behind Ziggler and lasted almost until the end, when Ziggler made him the 25th elimination.
Y2J is only back in the short-term as he has a lot of outside projects and WWE are no longer very accommodating where that is concerned. It may be that he doesn't even work every Raw up till Mania.
___________________________________________________________
Brock Lesnar signs on for two more year:
According to PWInsider.com Brock Lesnar has also signed a new contract.
The former UFC champ has agreed to a two year extension, which will see him work a limited schedule until Wrestlemania 31.
___________________________________________________________
Off air Royal Rumble news and notes:
- The Royal Rumble was a legitimate 15,103 sell-out from the US Airways Center in Phoenix, Arizona.
- While The Miz tweaked his leg in the US title match, he is not believed to be injured. WWE have already turned it in to a storyline.
- After the PPV went off air the Rock continued to cut a promo and thank the fans. When referee Mike Chioda told him to stand in front of the Wrestlemania 29 sign for a photo-op Rock said, "excuse me but I'm talking to Phoenix."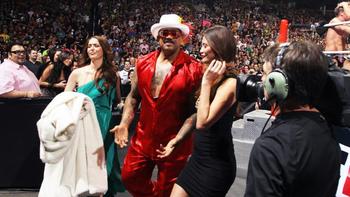 - Goldust and The Godfather's returns were a one off. Godfather dressed down and drove to the event so fans wouldn't spoil him at the airport and leak his appearance. The company reportedly had several former stars on hand for the match in hope that if some names leaked there would still be other surprises.
- Mark Henry and Ted DiBiase were both backstage and cleared to wrestle but for whatever reason were not in the rumble match. As noted yesterday Henry is yet to sign a new contract and his current deal expires at Wrestlemania.
- Shelton Benjamin and Carlito were both staying at the WWE hotel for an Indy appearance, which is why they were rumored to be in the rumble match. Hurricane and Chris Masters were also spotted at various points with WWE talent.
- The Rock vs John Cena is a lock for Wrestlemania and it's not believed that any shenanigans or swerves will take place to alter the that match.
With Punk losing the belt it may be that the planned 2013 program with Brock Lesnar will actually take place this year.
___________________________________________________________
Confirmed for tonight's Raw:
Tonight is Raw Roulette, meaning matches will be chosen by the spin of the wheel.
WWE.com confirms the following points…
* Will Dr. Shelby's work come undone after Kane and Daniel Bryan eliminated each other in the Rumble?
* Vince McMahon will be giving Paul Heyman a "performance review".
* How will CM Punk react to the Shield's interference?
* If Cena choose The Rock for Wrestlemania, how will this affect CM Punk's rematch clause?
Category: Wrestling News | Tags: Brock Lesnar, Chris Jericho